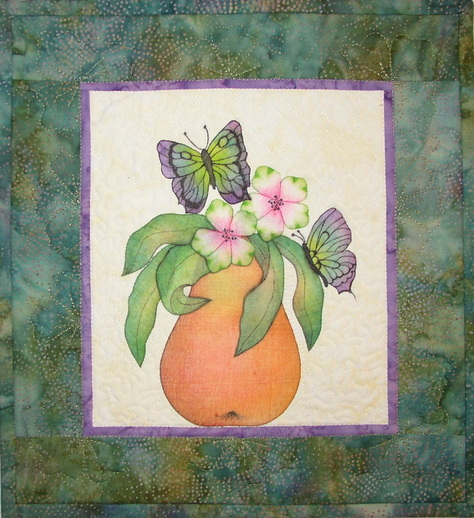 "DELICIOUS" - A sweet, juicy, warm pear picked right from the tree makes a delicious summer-afternoon snack. This small quilt brings back good memories of eating pears, picked fresh from the tree in my Uncle Earl's backyard.
(This project pattern available in my book, page 28)

---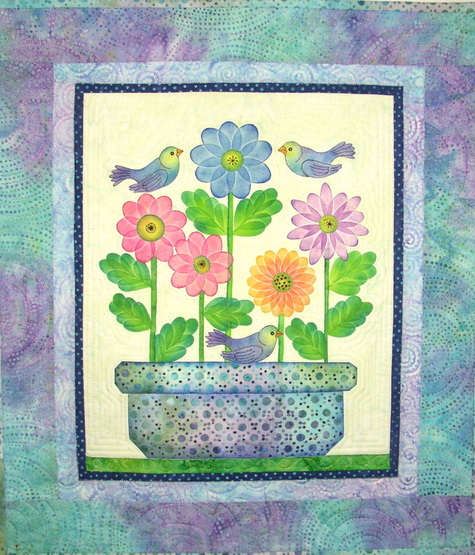 "PINWHEEL FLOWERS 1"- Using a variation of the Build-n-Color technique to make a flower, one or more shapes are used over and over, overlapping each piece equally. As you overlap each piece, a secondary pattern develops. When you color over the secondary pattern, the color pops out darker. I remember as a child putting a penny under a piece of paper and coloring over it. The crayon would hit all the high spots of the penny's stamped face and transfer that likeness to the paper. This technique is similar to that.
(This project pattern is available in my book, page 32)
---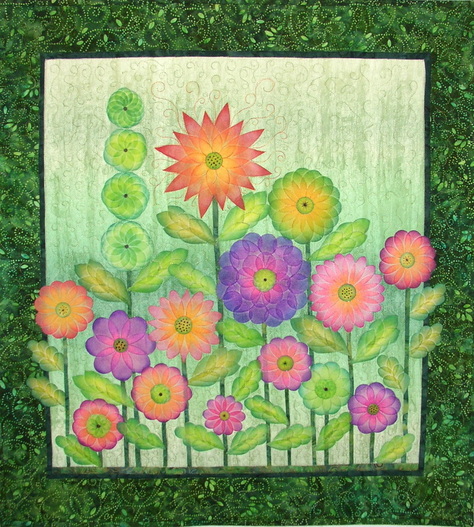 "PINWHEEL FLOWERS 11"-
Pinwheels are like shiny flowers that spin and whirl as they catch the wind--so simple in design, yet so delightful. These fantasy flowers remind me of the pinwheel toys I used to play with as a little girl. The only thing better than a pot full of pinwheel flowers is a garden full of pinwheel flowers!
(This project pattern is available in my book, page 38)
---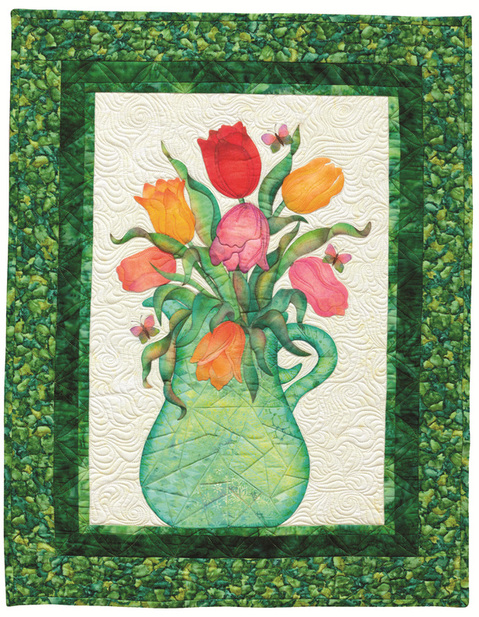 "KRISTY'S TOOHOOPS"
When our daughter was about three years old, she and her dad would take walks or go on bike rides down through the park. Like most three-year-olds, Kristy couldn't quite say some of her words just right. Whenever she and her dad came across tulips she would call them "too hoops". We of course thought this was the cutest thing ever. We still call tulips "toohoops" from time to time and smile at each other.
(This project pattern is available in my book, page 44)
---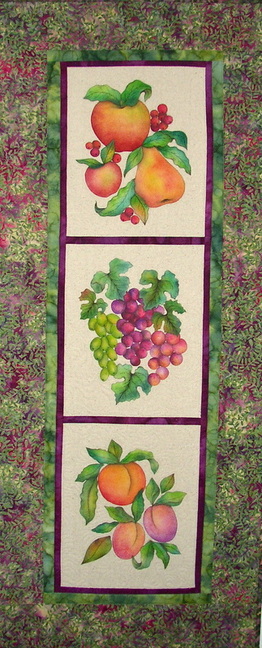 "GRANDMA'S FRUIT CUPBOARD"- My Grandma had so many wonderful things at her house. One of my favorites was her fruit cupboard. When we had dinner at Grandma's house, she'd send me out to the back porch and I'd choose a jar of fruit for dessert. Canned fruits and vegetables in every beautiful color were there for the picking--home-canned peaches, pears, and cherries; pickled crab apples; homemade grape juice; apricots; green beans; tomatoes; pickled beets; and sweet and dill pickles. I loved Grandma's fruit cupboard.
(This project pattern is available in my book, page 52)
---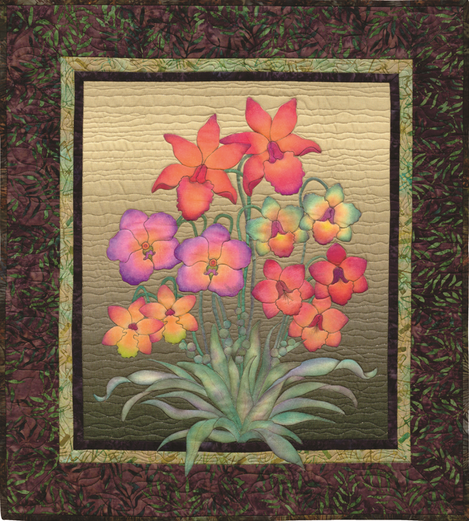 "ORCHIDS"- Orchids are the epitome of exotic elegance. There are thousands of different kinds in every color. Their intricate parts are fascinating and make them interesting to color. It would be fun to change the colors in this quilt to purples, blues, and pinks. Try it and send me a picture. I would love to see it.
(This project pattern is available in my book, page 59)
---
Quilt Gallery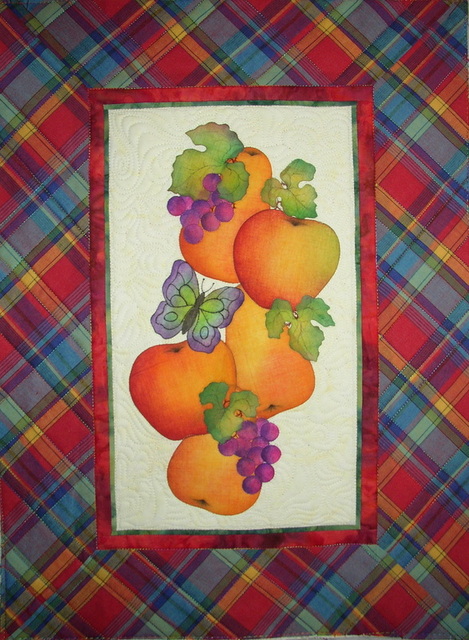 "HANGING OUT" - This simple, yet beautiful melt n blend quilt pattern is a great inspiration for beginners. The creation of some of your favorite fresh fruit will help perfect the technique using crayons on fusible appliqué . "Mister Butterfly" adds some fun challenges to help you get artistic with your quilt design ideas.
---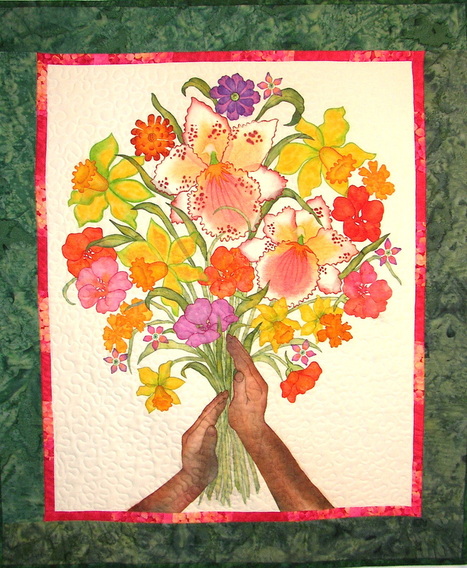 "THE COLOR OF LOVE"-
What woman doesn't love a fresh bouquet of flowers? With the help of your crayon box, I hope this melt n blend quilt will inspire you to create a beautiful and lasting arrangement of your favorite flowers.
---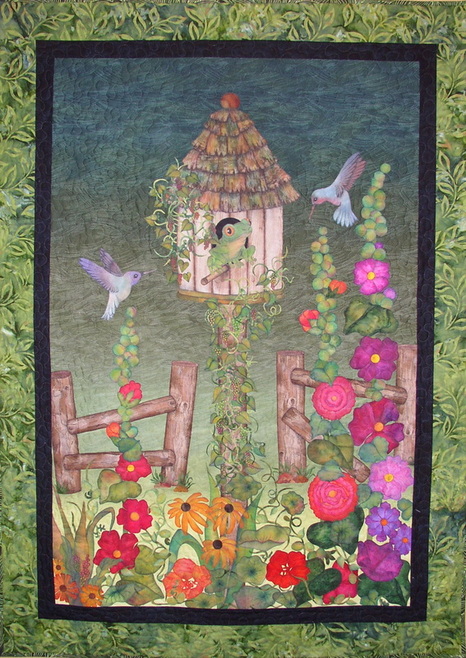 "A BIRD'S EYE VIEW" -
One of my favorite and most popular melt n blend quilts. It has a more artistic, almost painting quality to it, and I did it all with crayons! If you can dream it you can bring it to life on your quilt with the melt n blend technique.
---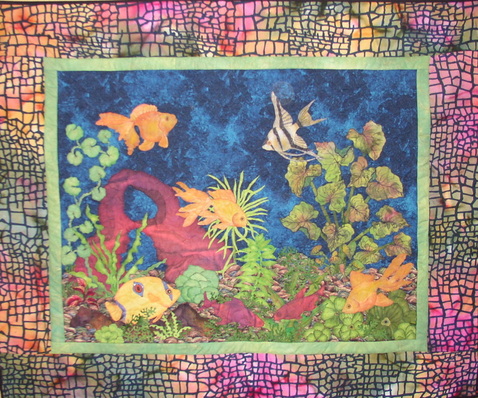 "AQUARIUM 1" - The beautiful and vibrant colors of life under water will provide all kinds of opportunities for you to experiment with new quilt patterns, to practice and perfect the melt n blend technique.
---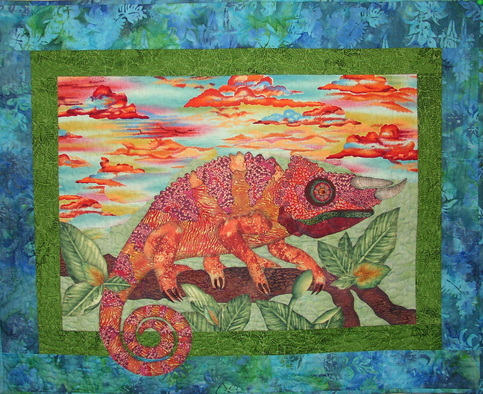 "SUNSET STROLL" - This colorful and strange looking little guy was a fun quilt to design using the melt n blend technique.
---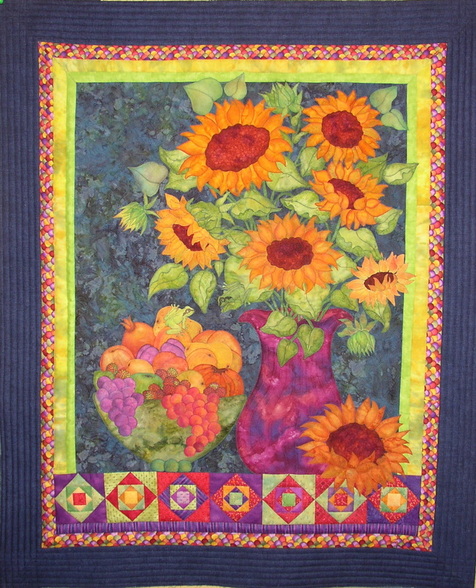 "LUNCH?" - I've done fruit on a quilt pattern and used the melt n blend technique to create beautiful flowers. Then I figured why not put both on one quilt. Your options are unlimited with crayons and fusible appliqué.
---
"SUNNY SHADE" - This little cardinal getting comfortable in the garden nibbling on grapes, reminds me of the home garden my husband Rocky used to plant every year in our back yard. What fond memories do you have that will inspire new and creative quilt pattern ideas to add to your collection?
---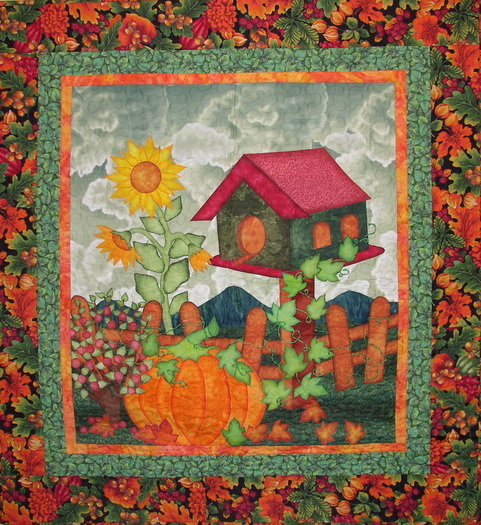 "GUARDHOUSE" - This quilt was one of my first attempts at using crayon to embellish my appliqué's. I used a very simple, one-color Melt-n-Blend technique around the edges of the pieces. You can see that my coloring has evolved over the years. I gave this quilt to my good friend Shari. She has been evolving too. She'd say she's getting older. I say she's getting better. Over the years she has kept guard over my family and me with her love and prayers.
---